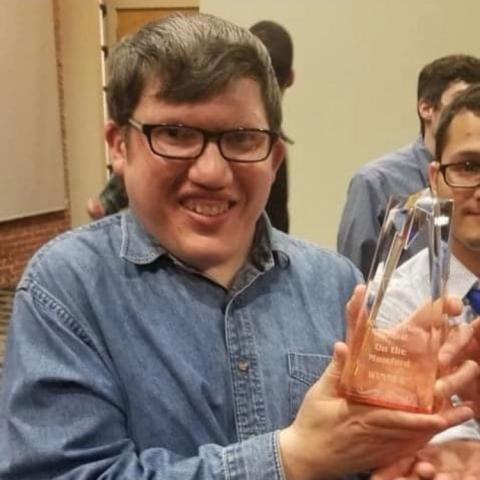 Along with family, friends, and the Open Sky community, Stepping Stone Community Theater family grieves the loss of Jason Carney.
Jason Carney who passed away unexpectedly in his home, on Sunday September 26, 2021. Jason was a member of the Open Sky family since 2015, residing at the Whitin Mill for the duration of that time.  He embodied Open Sky's mission; valuing relationships and the importance of community.
Jason was a familiar face to all who passed through the Whitin Mill complex or to anyone who attended the events hosted on the Dennis Rice Plaza. He was a social butterfly, always greeting those he knew by name.  He had a sincere interest in meeting people and creating friendships, and he was sure to start each conversation with a smile and a fist bump. 
He loved connecting with people, not only in person but also through written letters and emails.  Most recently he enjoyed becoming penpals with local emergency responders and players from the Worcester Bravehearts.
Jason enjoyed spending his spare time with his family and friends. He was an enthusiastic member of the Blackstone Valley Club 21, enjoyed going to the Whitin community center and attending LifeSong Worship services. Jason enjoyed acting and participating in theater with his friends at Stepping Stone Community Theater.
He was an avid volunteer at many events; both with Open Sky and at Peace of Bread Community Kitchen in Whitinsville. 
When asked about Jason, his friends say "If there is anything that we can learn from Jason, it's to appreciate the small things in life. A positive interaction with another human being, seeing the beauty in everyday life, enjoying a good meal and getting a giggle out of a silly moment."
Jason leaves behind many people who cared for him, including but not limited to his Blackstone Valley Individual Supports team, and his roommate Chris. 
(Thank you to the Open Sky family who shared these thoughts. Open Sky plans to have a celebration of life at the Mill sometime in October.)
Information regarding services is as follows: 
Calling hours on Friday 10/1 from 7pm-9pm
at Mulhane Funeral Home
45 N Main street 
Millbury, MA 01527
Funeral services on Saturday 10/2 10:00am 
at Holy Spirit Church
3 Pleasant street
Sutton, MA 01590
**Please note that masks are required while at all services 
Let's remember Jason with love, kindness and a smile.
Warmly,
The Stepping Stone Board 
Judy, Mary, Paula, Amanda, Chris, Elaine, Vicki, Keith, Sam and  Frank & Wendy (Past President of the Board of Directors)